The Pre-K program at Thomasville Elementary School will have a virtual orientation through Zoom on Thursday, Aug. 5. Parents can choose to either attend the 10 a.m. meeting or the 5 p.m. meeting. The links for the meetings are below. Mrs. Nordan's class 10 a.m. Lisa Nordan is inviting you to a scheduled Zoom meeting. Topic: Pre-k orientation Time: Aug 5, 2021 10:00 AM Central Time (US and Canada) Join Zoom Meeting
https://zoom.us/j/93431386779
... Meeting ID: 934 3138 6779 Passcode: tigers 5 p.m. Lisa Nordan is inviting you to a scheduled Zoom meeting. Topic: Pre-K Orientation #2 Time: Aug 5, 2021 05:00 PM Central Time (US and Canada) Join Zoom Meeting
https://zoom.us/j/92931296276
... Meeting ID: 929 3129 6276 Passcode: tigers Mrs. Smith's Class 10 a.m. Topic: Mrs. Smith's Pre-K Orientation Time: Aug 5, 2021 10:00 AM Central Time (US and Canada) Join Zoom Meeting
https://zoom.us/j/97032999967
... Meeting ID: 970 3299 9967 Passcode: yT9xqG 5 p.m. Topic: Mrs. Smith's Pre-k orientation Time: Aug 5, 2021 05:00 PM Central Time (US and Canada) Join Zoom Meeting
https://zoom.us/j/94149498705
... Meeting ID: 941 4949 8705 Passcode: c1C1DN

Tuesday, Aug. 10 is the first day for students at Thomasville Elementary School. TES staff encourages late arrival (8:30 a.m.) for all Kinder students and new students. Kinder students will meet their teachers in front of the school for a group photo - then will dismiss to their classrooms. All new students will be taken to their teacher by a TES staff member.

Following is "Back to School Guidance" for the 2021-2022 school year - based on recommendations from the Alabama Department of Public Health and the Centers for Disease Control.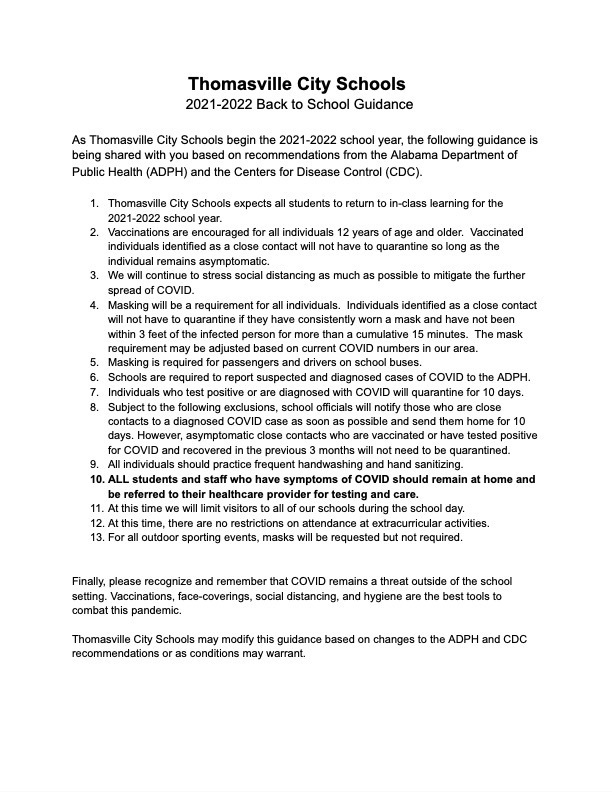 Here is the 2021 THS Football Spirit Shirt order form (corrected).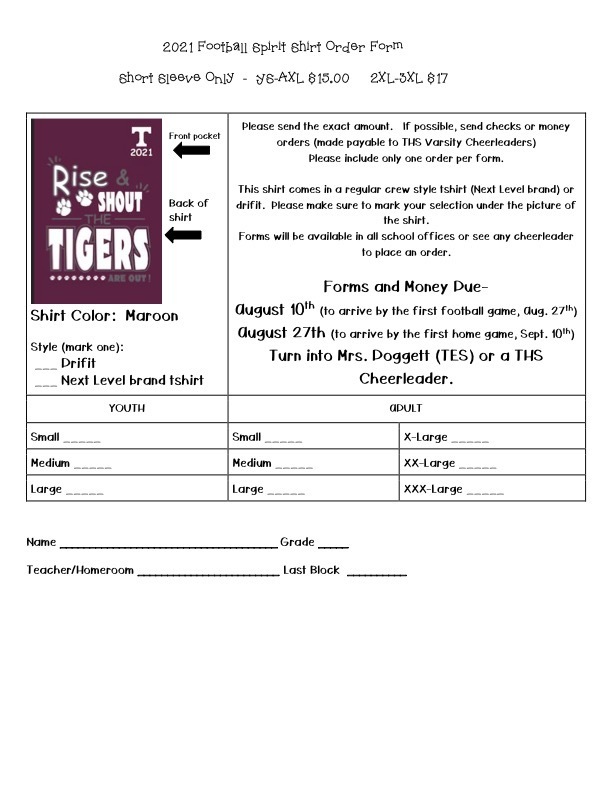 The Pre-K program at Thomasville Elementary School will host orientation through Zoom meetings. Parents can choose between a meeting at 10 a.m. or 5 p.m. on Thursday, Aug. 5. Links for the meeting will be posted Aug. 4.

The TES PTO will be selling T-shirts on Wednesday, Aug. 4 from 4 to 6 p.m. in the front foyer.

TMS orientation is going virtual, and the orientation video will be available on Thursday, Aug. 5.

TMS and THS students: pick up Chromebooks Thursday, Aug. 5 from 3:30-7:30 p.m. There is a $50 fee and signed form required. PLEASE do not come to the school outside of the scheduled time unless you have made prior arrangements. I may not be available to issue your device, and the office staff can not do this in my place. Email
eledkins@thomasvilleschools.org
for other arrangements.

THS volleyball program has released the 2021 season schedule (includes TMS games).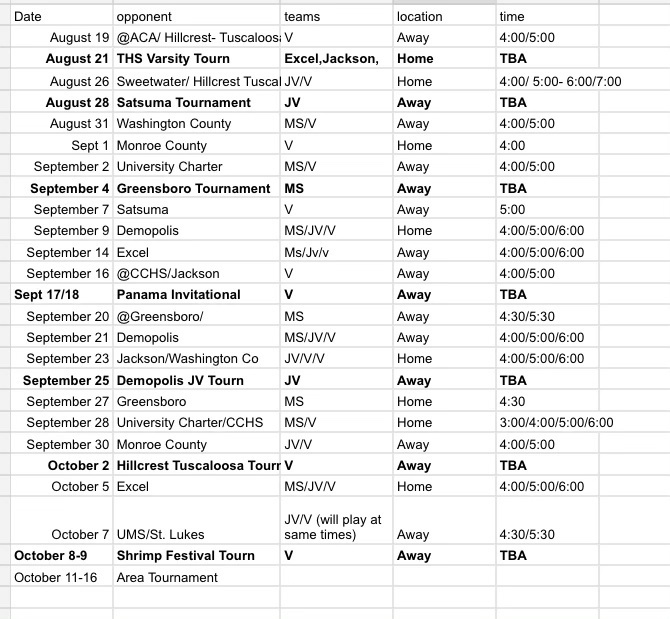 ATTENTION: funding available for Dual Enrollment classes at Coastal Alabama Community College. THS students in grades 10 to 12 for the 2021-2022 school year should contact Mrs. Brasell on Monday, Aug. 2 from 1 to 3 p.m. in the THS library. Before Monday, go to coastalalabama.edu and fill out the online application.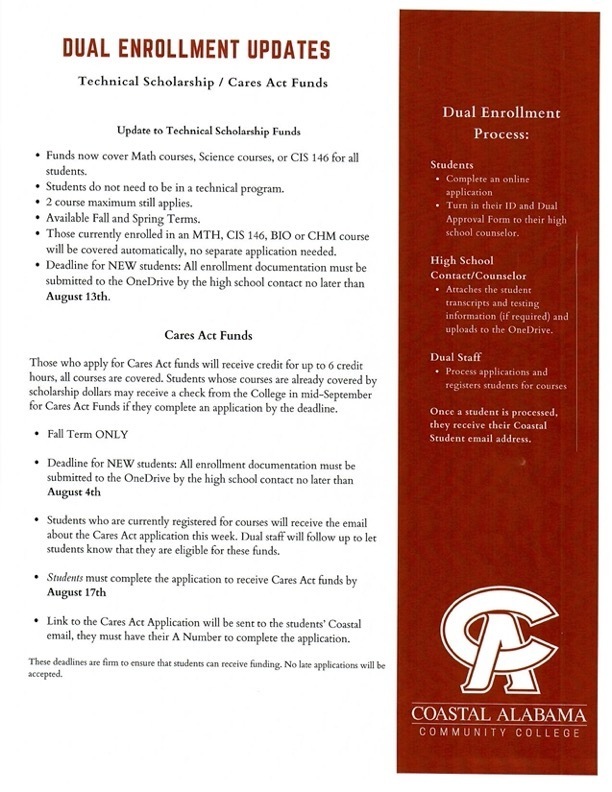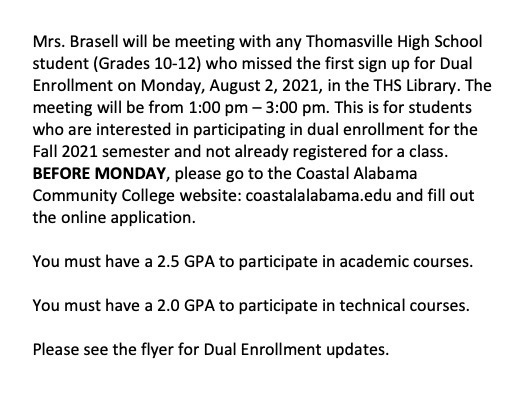 Special announcement from Thomasville Elementary School regarding orientation.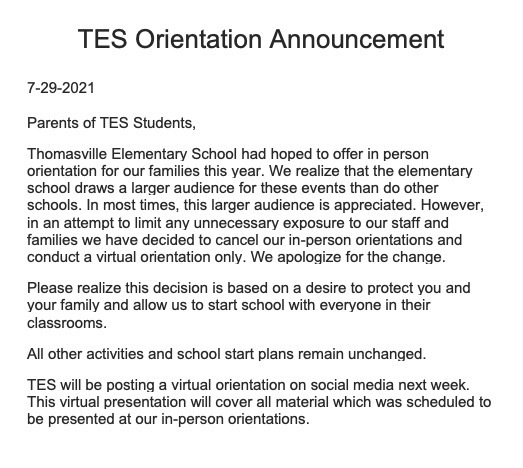 This is very important ticket and parking information for the upcoming 2021 THS/TMS football seasons.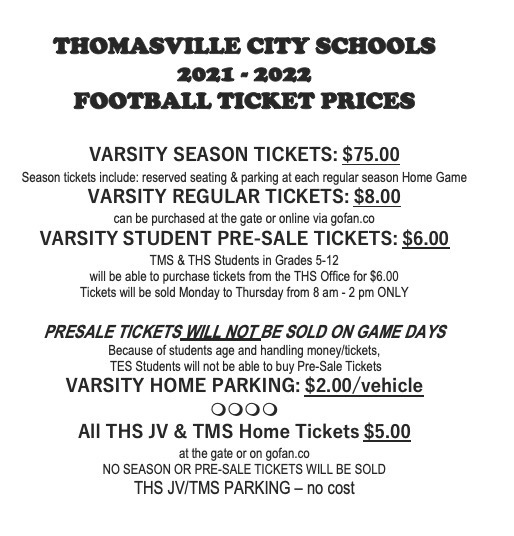 BRACKET CHANGED - The Thomasville High School Lady Tigers varsity and junior varsity volleyball teams will host an exhibition tournament Thursday, July 29 in the THS gym. ATTENTION: there will be a $2 admission price.

DATE and TIME CHANGE: Head Start orientation have been moved to noon on Monday, Aug. 9 at Thomasville Elementary School.

THS football season tickets go on sale Monday, Aug. 2 in the THS Main Office. Price is $75 for 4 homes games and the Aug. 20 home jamboree game.

All students entering sixth grade must have a Tdap vaccination before school begins in August 2021. There are also some students in 7th-9th grade who never received this vaccine. Please take care of this before Aug. 10, 2021. If you have any questions, please contact Nurse Thompson at 334-636-4451 or email at
cthompson@thomasvilleschools.org
.


Head Start parent orientation will be held at 3 p.m. on Aug. 10 in the Head Start classroom at Thomasville Elementary School.

ATTENTION: there will be no middle school, JV or varsity boys basketball practice this week. Enjoy the rest of the summer!

ATTENTION: THS Work-Based Learning students and parents: if you are a student who will be enrolled in WBL (co-op), make plans to meet with Mrs. Larrimore on Friday, July 30. Hours are: 8 a.m. to noon and 1 to 3 p.m. Email
rlarrimore@thomasvilleschools.org
or call 334-636-9955, ext. 1013.